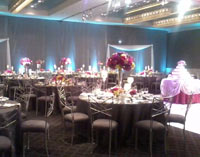 Welcome and thank you for visiting The Designerie, this is the place
where your dreams begin to become a reality.

When you entrust your event to The Designerie you are free to enjoy
the special moments along with your guests. We have enjoyed designing,
organizing, and directing special events for over ten years.

We are available for weddings, family celebrations, social, and corporate
functions; whatever your special event calls for, you can call on us.

It is always our pleasure to exceed your expectations!

Click here to view design portfolio.